Luckalyzer's 2018 Superbowl Prediction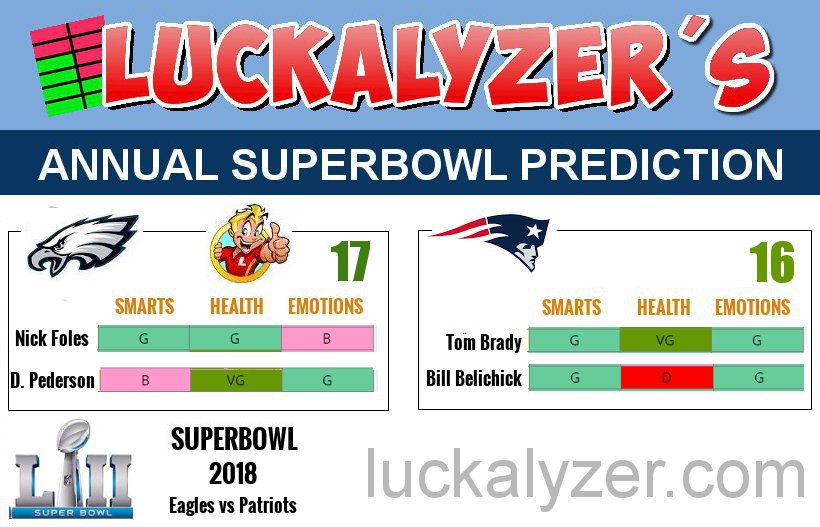 Luckalyzer's annual Superbowl prediction is in. Do you have your money on the correct team?
Based purely on the luck of the coach and the quarterback, this year is going to be EXTREMELY close.
Looking at the Quarterbacks, we find Tom Brady's reading is much superior to Nick Foles. We will give the Patriots the win based on quaterback alone. However, if we look at the reading of the coach's. Doug Pederson has a better reading. The Eagles get the nod here based on overall.
There is a twist. I would consider it more important for a coach to be thinking smart and it's not as important for a coach to be in good health. Based on that I would have to go with the Patriots whose coach fits that profile.
All the above assumes a human is thinking and handicapping the event. This can be a weakness as the conscious mind can be biased, can be manipulated by greed and fear. It does not always pick the most intelligent choice if it allows itself to be influenced by emotions. This is why we have developed a point system for comparison purposes. The computer always chooses based on the same logic with no outside influence.
The Luckalyzer point system is based on total points each team is awarded based on their luck readings (see chart below). Each of the four people in the event are rated in 3 areas (Smarts, Health, Emotions) and get points for each area. The coach and quarterback's points are added together to arrive at a final score. Based on the chart below, the Eagles are awarded 17 points and the Patriots are awarded 16 points.

According to the point system, which has been the basis for all predictions in the past, the win goes to the Eagles, 17 to 16.

17
Foles: 3 + 3 + 2 = 8
Pederson: 2 + 4 + 3 = 9

16
Brady: 3 + 4 + 3 = 10
Bellicheck: 3 + 0 + 3 = 6

We predicted the Eagles weeks ago, before the Playoffs. Back then it was 14 to 1 for Eagles winning the Superbowl. Now going into the Super Bowl, the Patriots will be the favorite. All we need do is put a sizeable amount on the Patriots in case they decide to spoil the party. Score a profit either way.
No matter who wins February 4th, it will be another profitable Super Bowl thanks to Luckalyzer, the world's most accurate Super Bowl predictor.